After opening our doors in July, we're reflecting on our first 500 floats at our premium float centre from the stories and 5-star reviews shared online.
We're grateful for all of the positive feedback. If you're considering trying out your first float, we'll cover some of the FAQ and share stories of others' first experiences below.
Curious what the first float experience is like?
There's obviously a lot of questions that come up when you hear about floating for the first time, as it's such a unique environment and experience compared to anything else out there. We've done our best to outline what to expect and answer any questions or concerns that come up before you visit us, plus our staff will walk you through everything before your session and give you a full tour.
Truly, truly remarkable. I was really nervous, but was greeted and shown round by a lovely member of staff who really put me at ease, no rush, or time limit. It was all at my own pace… It's weird just being able to float for that amount of time actually as you don't expect it! Then you have no choice but to let go and everything slips away, tensions, thoughts and you become just a floating brain… hard to put into words what happens, but I reckon everyone will have there own very unique and personal experience because of who you are and where your heads at. I will definitely be returning!!!
— Dan Rain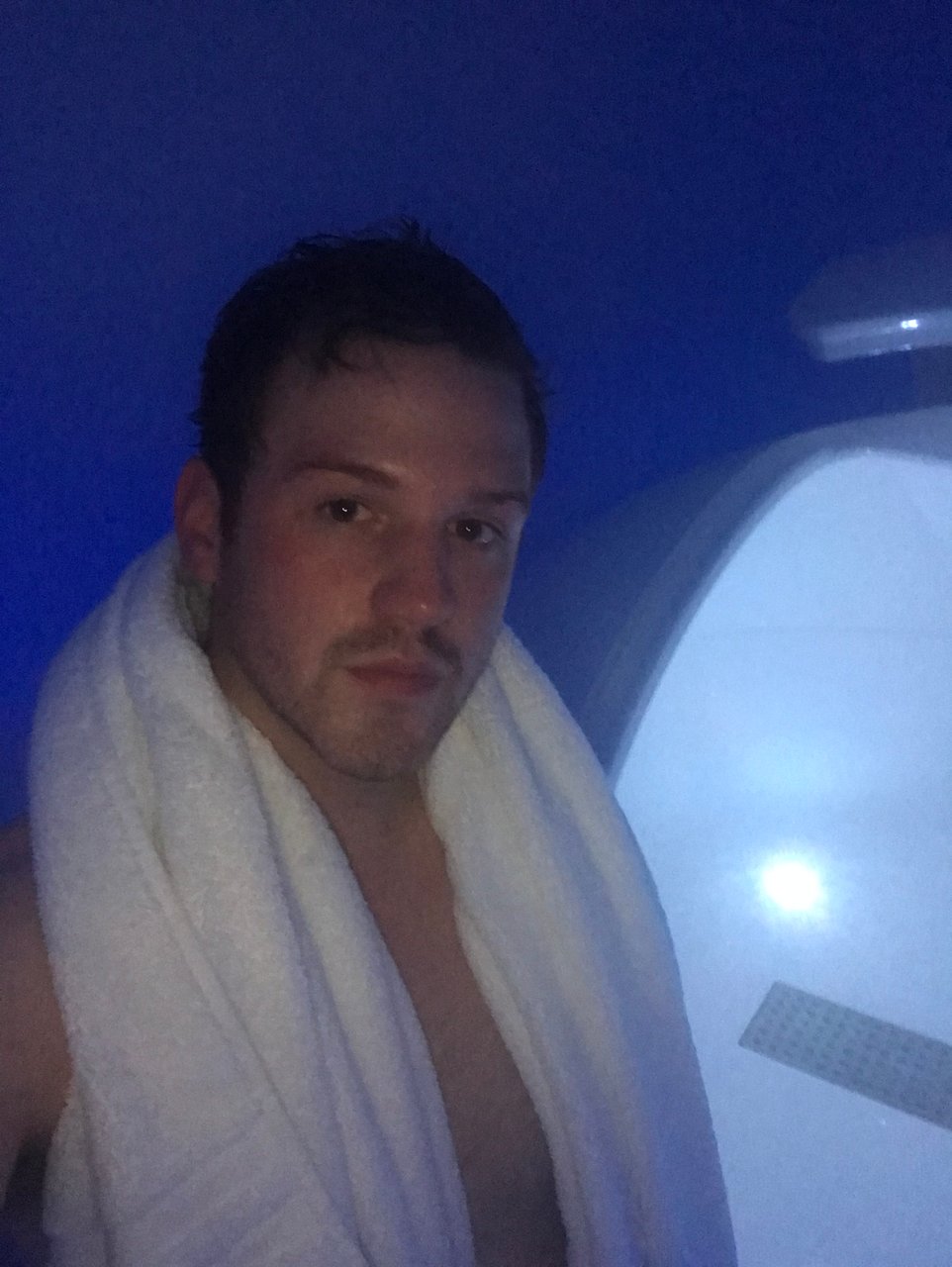 Wow. I had my first floating experience today and all I can say is if you haven't floated before you need too. Upon entering I was greeted by a wonderful Scottish man called Lorne who had the most dulcet of voice who put me right at ease. I enjoy some amazing tea in a blissful relaxation room before being take to my pod to become a fully fledged floater.
Everything is so clean and the water is drawn fresh in front of you so me being a germaphobe was at ease. Only tips id give is, don't move too much or touch your face as you float else you will ( like I did) need that emergency eye wash.
I shall be returning to float again and again. I get so zen and at peace!
Thanks guys! 11/10
— Zachary W. on TripAdvisor
Worried about claustrophobia? Let your stress fade away!
This is one of the most common concerns from people who struggle with claustrophobia. Some of it comes from a lack of information when you first hear about floating and no experience with the environment. Our tanks are the largest available and floating provides an expansive feeling of being in a space without any boundaries, so these worries usually fade quickly. Plus, if you prefer you can have the door of the float tank open or keep the lights on — you're in complete control of the experience!
After being greeted by the friendly staff I had a some time to chill out in the relaxation room prior to my float. I was then shown to my private room where my pod was waiting, I was really taken aback by the sheer size of it! Being 6' 4" I was slightly skeptical as to whether I'd find it claustrophobic and a little uncomfortable, this was by no means the case! I had plenty of room to stretch out which allowed me to feel completely at ease during my float. Most people are shorter than I am so if you have similar concerns, fear not!
After the float I felt completely relaxed and de-stressed, the time in the pod went quicker than I had expected and I was feeling good about myself and ready to get on with my day. I couldn't believe how good I felt after a single float, I can't wait to get more floats under my belt and reap the benefits even more! Thank you Floathub!
— Michael S. on TripAdvisor
I'm a convert to floating. As a first-timer, I didn't really know what to expect: would I enjoy the experience, let alone feel the benefits?
I am a natural sceptic, I was very pleasantly surprised…
The first surprise was actually managing to float – I sat in the pod thinking "so how's this going to work?", but after letting myself go, I soon found that sinking isn't really an option.
The second surprise was just how tranquil the experience was. I completely lost track of time – in a good way – unusually content with only myself for company.
The third surprise (and biggest for me) was realising shortly afterwards that the lingering back pain I'd suffered for weeks with had lifted – literally a silver bullet. Perfect.
The outfit itself is has been really well done, and the staff very welcoming and helpful.
— LGirv88 on TripAdvisor
The benefits only get better with each float
Every float is different and the benefits compound over time.
Sometimes expectations can get in the way of your experience or small things can make it harder to relax (dehydration, caffeine beforehand, etc. See our guide for more tips on how to have the best first float experience.)
As you become more accustomed to the environment and practice of floating, you will find that your stress levels can find a new baseline, your mood or energy levels stay lifted longer, and all of the benefits can deepen or build off of each other for larger shifts in your life.
The best float experience available!!
I float semi regularly and this is by far the best float experience I've had! The pods feel significantly superior to those I've experienced elsewhere (they feel more spacious, they are more easily accessed and the water is freshly filtered between each float), the location is great and the atmosphere is relaxing from the moment you step through the door. The staff are knowledgable and attentive and I left feeling rested and refreshed. Will definitely be going back and would recommend to anyone seeking some rest and relaxation
— Jenny P. on TripAdvisor
Try it for yourself
Ready to discover who you will become with floating?
Book A Float Now